Blog entry by Bruce McPherson
Anyone in the world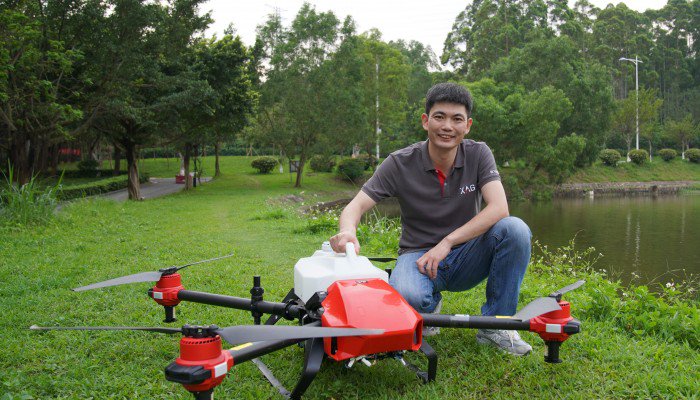 On a road trip through Xinjiang in 2012, Peng Bin saw how ageing farmers laboured in vast cotton fields with heavy tanks of pesticides strapped to their backs, spraying the chemicals without any protection.
"I could smell the acrid stench of pesticide from afar and I thought maybe my unmanned aircraft could help," said Peng, 37, founder and chief executive of XAG, one of China's biggest makers of agricultural drones. "At least drone spraying would limit the farmers' exposure to the chemicals."
It is also more cost-effective, an important consideration for the labour-starved agricultural industry in China. In general, a drone can do the same spraying job in 1/30th the time, and the more challenging the terrain, the more advantage a drone has.
Soon after the trip, Peng focused on producing drones for industrial use, instead of the consumer devices that hobbyists use to take holiday videos. That move proved prescient as demand for pesticide and fertiliser spraying soared with the decline in farm labour. Young people would rather work in factories, or wait tables and clean homes in big cities like Beijing and Shanghai, than toil in the fields.
For Peng, his chosen career marks a full circle of sorts for his family. Peng's parents moved from the countryside to Sanming city in China's southern Fujian province early on.
Peng himself was born and raised in the city. A computer science graduate from XiDian University in Xian, he worked for Microsoft for two years before starting a business in 2007 making consumer drones. He renamed the company XAG last year.
Boosting agricultural productivity is a top priority for China, which wants to lessen the country's reliance on food imports. The government has set a target to produce 90 per cent of its own farming equipment by 2020, and the sector is one of the priorities in Beijing's "Made in China 2025" strategic industrial plan.
Drone pilots in demand as China's farmers age
Competition in agricultural drones is expected to heat up, with DJI, the world's biggest maker of commercial drones, also identifying the sector for expansion.
The Shenzhen-based company sees its latest drones, including the Mavic 2 and Agras MG-1, as being squarely aimed at the industrial segment, which accounts for more than half of the global US$9 billion drone market.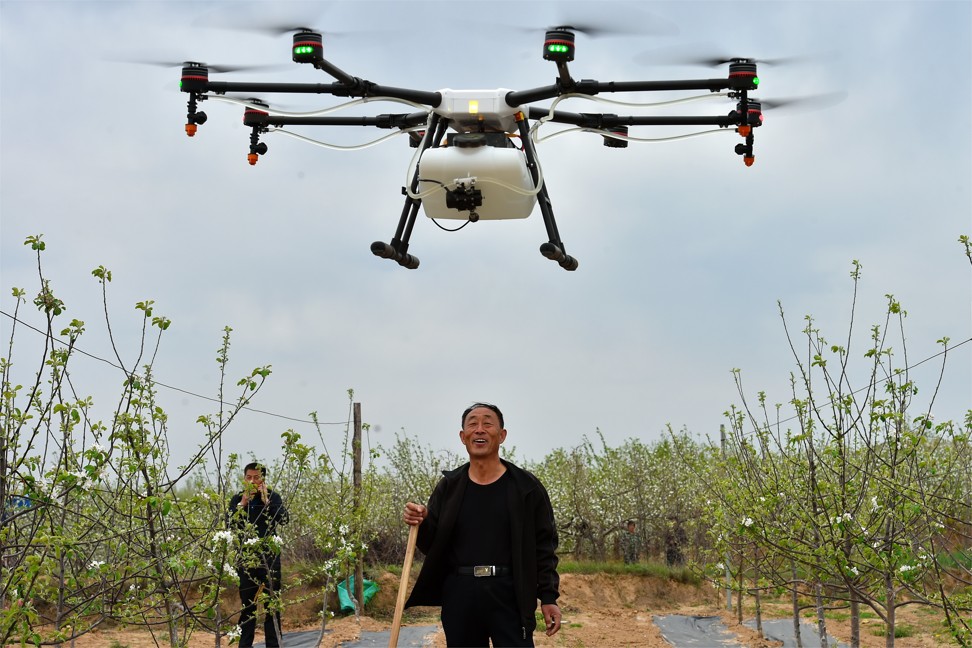 A farmer looks at a drone spraying pesticide in his field in Jixian County, north China's Shanxi Province, in 2017. Photo: Xinhua
"One of the key areas for the enterprise business is [the use of drones] in agriculture," Bill Chen, DJI's enterprise partnership manager, said in an interview in January. "As the world's population keeps growing we have to find more hi-tech ways to meet the rising demand for food."
To stay ahead of the competition, Peng is looking beyond China for markets for his agricultural drones. XAG is now in 22 countries and regions, though those markets remain small in terms of contribution to revenue.
Like the Xinjiang road trip, Peng recently undertook another long drive, this time across the US, to get a first-hand understanding of the market.
It's official: drone pilots and pro gamers are now proper jobs in China
Last month, Peng flew to Los Angeles with co-founder Justin Gong, rented an Infiniti QX80 SUV and went from the wine country in California's Napa Valley, through Nevada, Utah and Wyoming. They stopped at Kansas City and St Louis in Missouri before pushing on to New York.
During the eight-day drive, they visited farmers and showed them demo videos of XAG's drones, like travelling salesmen. Peng said some farmers showed interest and asked where they could buy the drones or send them for repair. One farmer invited them to his land and asked if the drones could monitor the crops and help him save on water, he said.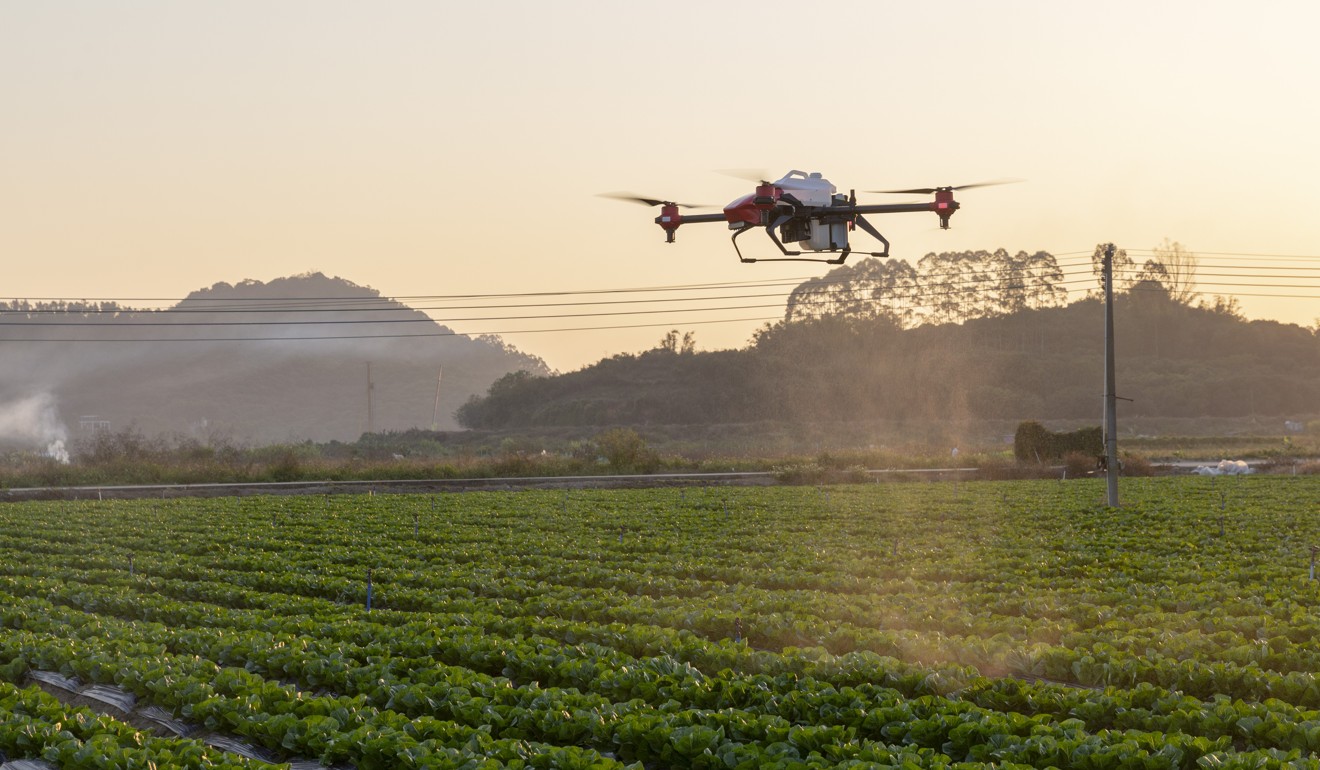 The drone maker is capitalising on China's drive to boost agricultural productivity as the country seeks to lessen its reliance on food imports. Photo: Handout
"Great technology will benefit people globally no matter how competitive the two countries get with each other," Peng said, when asked if the US-China trade war featured in his conversations with American farmers.
For now, the US is a small market for XAG, with China still accounting for 90 per cent of its revenue.
It's official: drone pilots and pro gamers are now proper jobs in China
Besides drones, Peng plans to develop other agricultural technology. XAG is testing driverless mini tractors and robotic arms for picking fruit and tea leaves, and aims to introduce the products in 2021.
The ultimate aim, said Peng, is to reshape farming into a respected profession like medicine or engineering. The average annual disposable income of a rural resident in China was 14,617 yuan (US$2,443), or 37 per cent of a city dweller, according to the National Bureau of Statistics.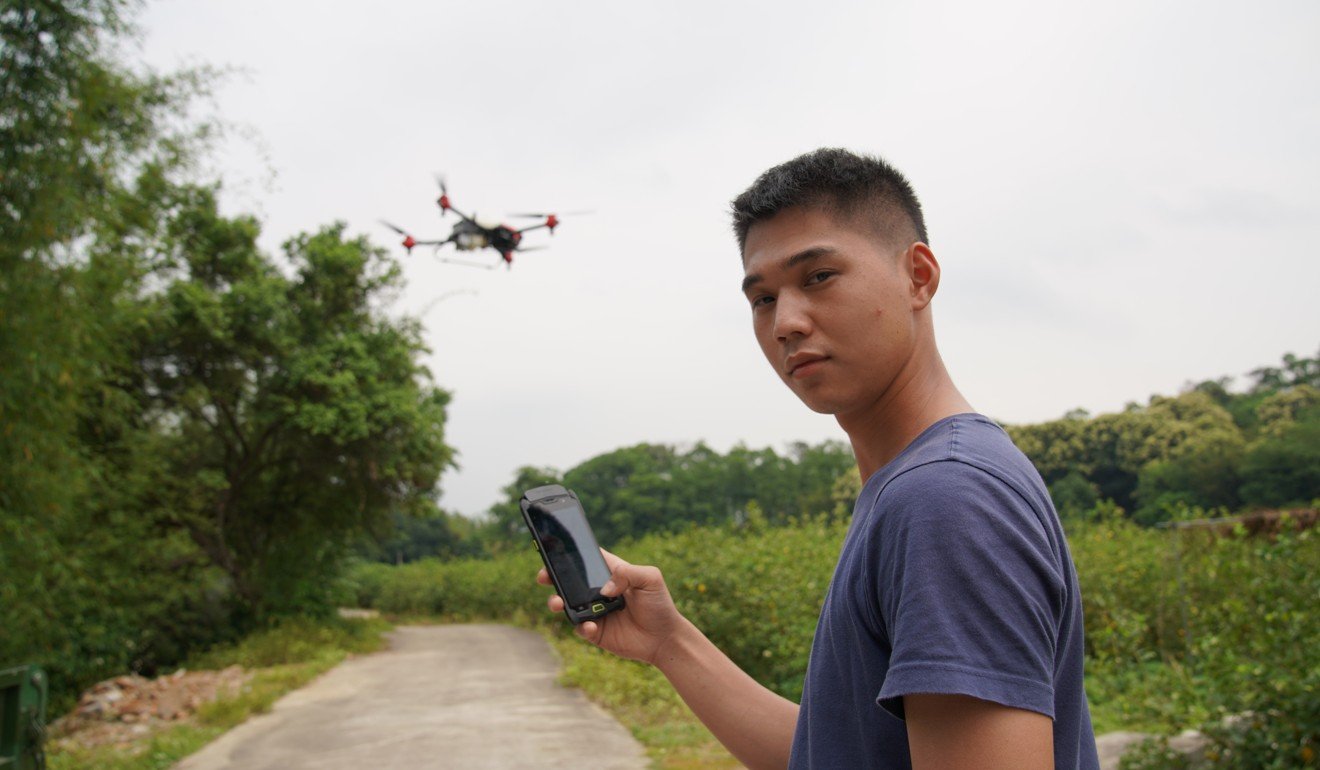 Demand for agricultural drones is rising because of labour shortages in China. Agricultural drones are used for crop monitoring as well as pesticide spraying. Photo: Lea Li
Peng concedes it will take some time before China can erase the stigma of being a farmer in the country.
"Compared with overseas market like the US and Japan, our technology application into agriculture still lags far behind," he said. "In the US, farmers have better lives than in China, from my observation."
"Their farmland is well managed with technical equipment. The farmers are well-dressed and speak well. They seem to enjoy their lives more."
By Celia Chen , South China Morning Post
[ Modified: Tuesday, 16 April 2019, 1:02 PM ]