Blog entry by Bruce McPherson
Anyone in the world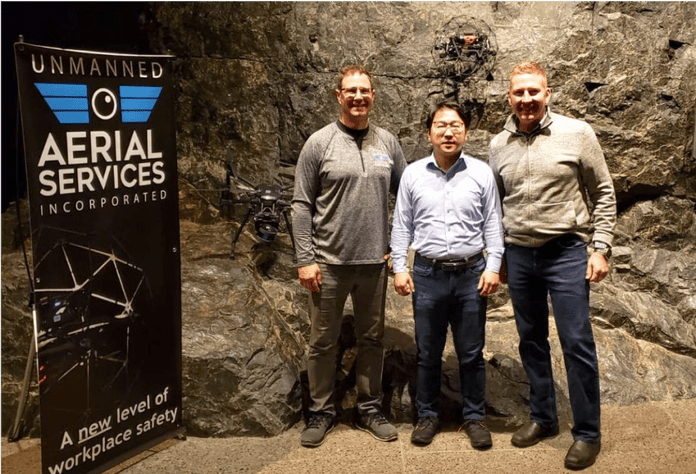 Japan's Terra Drone Corporation, the world leader in industrial drone solutions, has signed an investment agreement with Unmanned Aerial Services Incorporated (UAS Inc.), an Ontario, Canada-based inspection service provider for indoor industrial confined spaces and underground mine locations. With this agreement, Terra Drone will form a new subsidiary in Canada, Terra Drone Mining, to provide cutting-edge unmanned mapping and inspection services to underground mines across the world.
Established in 2017, UAS Inc. counts among its clients some of the world's leading mining companies including Vale, Newmont Goldcorp, Barrick Gold, and Glencore. The fresh infusion of investment by Terra Drone will allow the newly-formed Terra Drone Mining to expand UAS Inc.'s business beyond North America, and cater to areas of thriving underground mining operations such as South/Central America, South Africa, Central Asia, Russia, and Australia.
Accidents in underground mines have remained a serious issue around the world throughout the last century. Workers not only suffer from health issues caused by working in dark and narrow tunnels day after day, but they are also prone to accidents caused by falling material, flooding, as well as underground fires and explosions. According to the United States Mine Safety and Health Administration (MSHA), there have been more than 20 fatalities in US mines this year alone.
The risk of such incidents can be minimized by using unmanned inspection solutions, aka drones. Terra Drone utilizes a mapping technology called SLAM (Simultaneous Localization and Mapping) to create highly detailed maps of underground areas. Since a drone can reach areas that are not easily or safely accessible to humans or traditional CMS scanners, mine operators can use drones to obtain 3D models of the mines, and prevent workers from entering hazardous locations.
Terra Drone Mining will be able to leverage both this advanced UAV technology as well as the underground mining inspection know-how that UAS Inc. has cultivated over time to create a robust local service network.
For more details about the underground mining services Terra Drone offers, visit: https://www.terra-drone.net/global/solution-mining/
Complicated underground environments such as this crusher station can be easily captured in a single scan, to validate as-built conditions, and for clash detection for new engineering. (Sudbury, Canada)
This scan was captured, and interior artifacts removed, to create a model of the rock cavity prior to repurposing for new equipment. Unlike simple imagery, measurements can be made and the coordinate of any point can be queried in the point cloud. (Sudbury, Canada)
Scans are used to check clearances between rock surfaces, and existing infrastructure.
■ About Terra Drone Corporation
Established in 2016, Terra Drone Corporation has quickly become one of the world's largest industrial drone solution companies employing over 550 drone industry professionals. The company's head office is located in Tokyo, Japan, and more than 25 branches are spread globally throughout Asia, Europe, the Americas, Africa, and Oceania. Terra Drone provides innovative enterprise drone services for oil and gas, utilities, renewables, mining, construction, and GIS sectors, among others.
Previous investments include Unifly, which specializes in unmanned traffic management (UTM); C-Astral, which develops high-endurance fixed-wing UAVs; RoNik Inspectioneering, which provides wireless inspection services for confined spaces; Ventus Geospatial, which has patented gas leak detection technology; and Inkonova, which has developed SLAM technology for underground mines. Going forward, we will continue to invest in technology companies with cutting-edge solutions for drones.
By PRESS
[ Modified: Tuesday, 10 December 2019, 9:26 AM ]